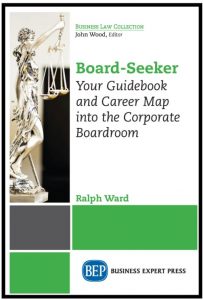 BOARD-SEEKER: Your Guidebook and Career Map into the Corporate Boardroom
Board-Seeker is the first practical guide to help board-ready leaders and executives gain the knowledge, resources and confidence to shape their own successful "onboarding" career program. All the tools you need to turn your "board wannabe" vision into reality.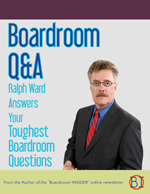 Boardroom Q&A (digital download)
Boardroom Q&A delivers over 100 real-world answers to the toughest questions facing corporate board members worldwide today, drawn from Ralph Ward's Boardroom INSIDER governance newsletter. Savvy advice from leading corporate directors, consultants, counsel, and financial experts, in a handy Q&A format.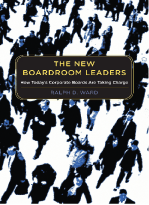 The New Boardroom Leaders (Hardcover)
U.S. boards must now meet without management, key committees have tough new independence rules, and all board members now face an unavoidable legal responsibility to provide truly independent oversight. The result is an urgent demand that corporate boards for the first time develop their own leaders from within. The New Boardroom Leaders explains how.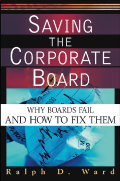 Saving the Corporate Board (Hardcover)
In Saving the Corporate Board, Ralph Ward mixes tart, insightful analogies (what do boards have in common with volunteer fire departments, Goofus and Gallant, the U.S. Electoral College… and Howard Hughes?) with proven nuts-and-bolts advice for putting any board back on track (what are the "10 reasons why corporate boards suck"?). In Saving the Corporate Board, Ralph Ward rolls up his sleeves and offers compelling, fresh ideas for solid corporate governance.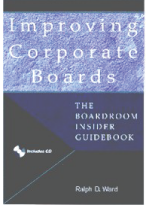 Improving Corporate Boards (paperback)
From Boardroom INSIDER, the hot online newsletter for better boards and better directors, comes Improving Corporate Boards, packed with real-world advice from the people who make our most effective corporate boards succeed.
PLUS: An exclusive CD of interactive Boardroom INSIDER Checklists you can use to shape your own "best practice" board.
21st Century Corporate Boards (Hardcover)
The first major book to put the worldwide boardroom revolution in perspective! 21st Century Corporate Boardhas won applause for turning the history — and future — of US top management into a fascinating, insightful tale. A must for any new director or corporate observer.